Our brand-new Vega Shop is a quick and excellent way of buying some of our best-sellers cylinders wasting no time. Moreover, its intuitive design and elegant graphics make it extremely easy to purchase the right cylinder for your applications.
Learn how to get the best out this new website, and taste  Vega excellency at its finest!
   Step 1—Set Up Your Vega Account
In order to purchase Vega cylinders online, it is mandatory to have a Vega account.
If you already have one, simply click on the account icon and sign in. Your e-mail address and password associated with your Vega account will be required.
On the other hand, if you don't have a Vega account yet, it's time to begin! Click on the account icon and sign up. After filling the registration form, you will receive a confirmation email—your Vega account is now ready!
   Step 2—Purchase Your Cylinder!
Now you're free to browse our website with no restrictions. Starting from the homepage, a quick preview of our best-sellers cylinders is given. There are the cylinders you can purchase online. At the moment, V250CE, V450CM and V500CZ cylinders are available for purchase. Just by clicking on their icon, you will be redirected to the cylinder overview page.
One of the main features of the overview page is the subcategory view. In a few words, subcategories tell you the possible applications of the cylinder. By clicking on one of these subcategories, you will see all cylinders designed for that specific application. This will help you find the most suitable cylinder for your needs!
Under the subcategory section, a presentation of the fixing options of the series you chose is given. You will be able to choose the fixing style most suitable to your requests, as well as see a design and 3D view of the cylinder itself. By clicking on it, you will be redirected to the cylinder customization page.

In the customization page, you will be able to choose the bore, stroke, rod-end type and cylinder version (magnetic or not) of the cylinder you selected. You can also add it to the cart and see if the cylinder is already in stock or not.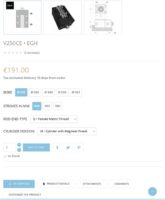 If you're sure of your choice and you're ready to purchase, just add the product to the cart. A quick summary of your purchase will be shown. You will able then to continue shopping or proceed to checkout. If you decide to proceed with your purchase, a few more information will be required. You will need to give a shipping address, your VAT number and other few things. Of course, you will also need to specify your preferred shipping and payments options. Then you will be able to continue on.
And that's it! You've just purchased your first Vega cylinder online! Of course, if you have any doubts or you have specific requests that cannot be met by customizing the cylinder on this website, feel free to directly contact Vega as always!
We truly hope this website will help our customers get what they need in as little time as possible, so as to keep your business pushing forward!