Over the years, our official website went through many changes—a new configurator, new technologies, and especially a whole new look! But our main focus is to make our customers feel at home, and that's why we aim toward a very clean-cut website easy to browse.
Therefore, we are very glad to present two new features that will make looking for the right cylinder a kids game!
   Easy Contacts
Finding our telephone number and e-mail address was not really easy, and yet it's one of the most important thing to have at hand! No more mysteries now. Do you need to discuss about a new cylinder you want to purchase? The upper toolbar and the relative drop-down menu now offer an easy access to our contacts! Just by clicking, you can call our company headquarters or send us an e-mail with no difficulties whatsoever.
   Filtering Your Way Through 
Do you need a cylinder for die-casting? Or a cylinder with an integrated unscrewing device? What about a cylinder with mechanical switches? Well, your cylinder-hunt has never been easier!
Now the product page offers a very intuitive filter system.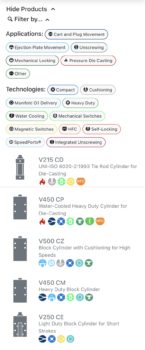 Cylinders are categorized according to their applications and technologies, and each group has its own symbol and color. By clicking on one of the tags, all cylinders designed for that particular application or having that particular technology show up. Of course, you can select different tags at the same time, in order to find a particular cylinder matching all the features you are looking for!
What if you already know the cylinder you want to purchase, but you'd like to know more about it? Easier done than said! Now all cylinders have special symbols according to their categories. For example, let's take a V215 CD cylinder, as shown in the picture. What do the symbols tell us? Well, for one thing, it's a good cylinder for pressure die-casting. It can also offer a cushioning system, mechanical switches, magnetic switches, and HFC. Easy, isn't it?
We hope that all these brand-new features will help you find the cylinder you really need. Get to know our cylinders better, and we are sure you will love them as much as we do!